NYAAP congratulates Sarah Jackson, MFA, MA, LP, a NYAAP member practicing in Great Barrington, Massachusetts, for her recent Gradiva Award from the National Association for the Advancement of Psychoanalysis (NAAP). Each year NAAP acknowledges the literary and artistic achievements of those who have created
works that represent and promote psychoanalysis and psychotherapy. Following is Sarah's description of her process, and the story behind the art.
Artist's Statement
These pieces are part of a series which has unfolded during the pandemic.  They are representative of a studio process which informs, and is informed by, my work with patients as well as my own analysis, including of course an on-going exploration of dreams.  What I am pursuing in my studio is the physical and material concomitant of what I search for, and accompany patients and students in their search for.  It is, in Jung's words, that "state of imperfect transformation" that can bring about "…a secret happiness that reconciles us to our apparent loneliness" by revealing a hidden order and bringing us into relation with what Jung called an inner partner [Mysterium Conunctionis, CW 14, par. 623.].
Several months ago, as I began work on a syllabus for an Introduction to Alchemy class which I am now teaching at the C.G. Jung Institute of New York, I was struck once again by how the image-making processes of visual art are indeed a kind of alchemy.  One takes whatever is at hand — found objects, odds and ends, a few dollars worth of pigments and paints —  and tries to make something precious, something of meaning, out of it.  What was at hand in my studio was a strange shard I had found by the side of the road in late winter: a piece of a broken ceramic lawn ornament — a toad's foot and belly —  which I began to work or play with, nestling it into part of an old basket, combining it with colored cloth, some copper, pieces of a photograph of a Roman sculpture of Medusa, then paint and pigments, some of them made from the same minerals used in medieval alchemy. [See image # 1].
The green-gold of the toad conjured an occurrence — perhaps produced, perhaps imagined, or both— described by alchemists as the "blessed greenness", when the color of new vegetation and emerging life spontaneously appeared in the midst of the vessel, even though the substance being worked upon might, in fact, have been in some state of breakdown, rot or decay — a most paradoxical yet hopeful occurrence, especially when it appeared, as it did for me, during a time of isolation and uncertainty.
"Blessed Greenness" 17"x 11" x 4" , collaged elements, encaustic & oil stick, 2020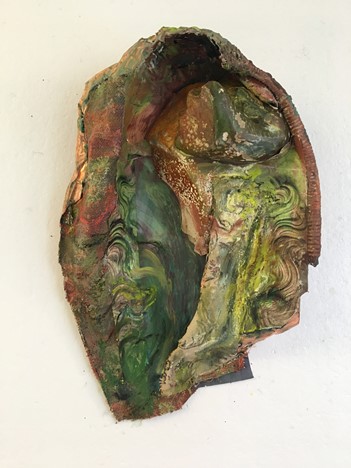 "Prima Materia", 12" x 13" , ashes and oil stick on lead, 2020.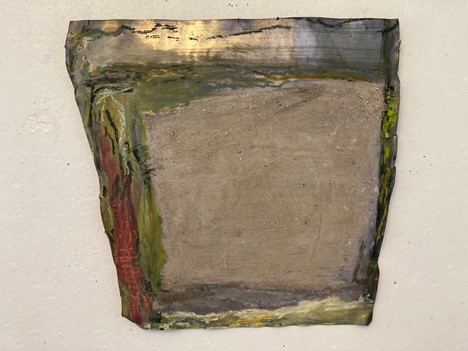 "Nigredo", 10" x 9", copper, collage & oil pastel on handmade paper, 2020.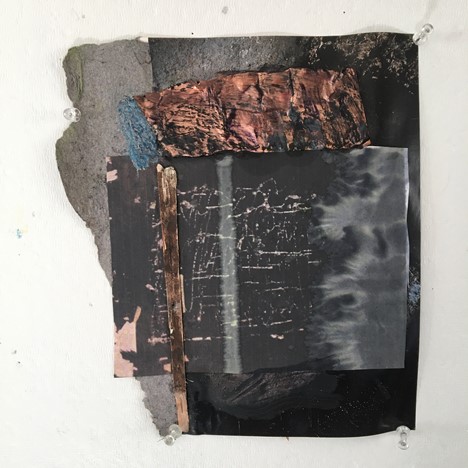 4. "This", 9"x 12", pastel, oil pastel, ink, gold leaf, canvas & glass on paper, 2016- 2020.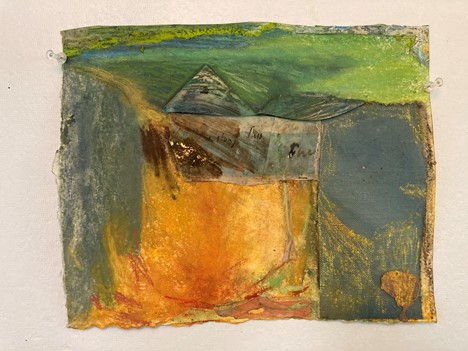 For more information about Sarah visit her website: psychotherapy.sarahjacksonmfa.com